Multiple form factor, low profile memory module for embedded and mobile applications
MEMXPRO Launches M.2 SATA Module Series
---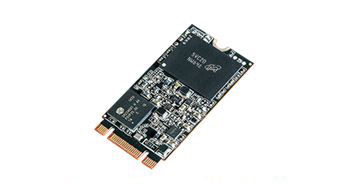 MEMXPRO's M.2 SATA M3B 22x42mm Module
February 24, 2016 - MEMXPRO, a reliable industrial flash storage solution provider, announces the release of its SATA III MLC M.2 SATA embedded flash module series, a case-less, small form-factor memory module with rugged features for immediate industrial customer qualification. The M.2 specification allows different thickness M.2 SSDs with single-sided versions (S2) and dual-sided versions (D2) offered. The single-sided version highlights its ultra-thin profile with a maximum component height of only 1.35 mm, making it the perfect choice for embedded and small handheld devices where space is limited.
The flexible M.2 specification allows different module widths and lengths, and with its advanced interfacing features, makes the M.2 form factor more suitable for NAND flash Solid State Drive (SSD) applications in general. MEMXPRO M.2 SATA M3B series performs consistently in harsh environments with wide temperature variations, shock, vibration and dust. Its high capacity SSD flash memory complies with the Serial ATA 3.1. specification and is available in length dimensions of 42mm, 60mm, 80mm, and 110mm. Wide temperature grade options include: standard grade 0 ~ 70 °C, extended grade -25 ~ +85 °C, and industrial grade -40 ~ +85 °C.
At the same time, MEMXPRO M.2 SATA M3B series is able to deliver excellent read/write speeds for heavy-loading and multi-tasking applications. Its sequential read data transfer performance is up to 500 MB/sec, and sequential write speed is up to 150 MB/sec. The single-sided modules come in 16, 32, 64, and 128 GB capacities, and the double-sided modules come in 32, 64, 128, and 256 GB capacities. Data is protected by a built-in 66 bits per 1KB Error Correction Code (ECC) and its intelligent controller manages interface protocols, data storage and retrieval, defect handling and diagnostics, power saving modes, wear leveling, and flash block management.
About MEMXPRO
MEMXPRO provides reliable industrial memory and flash storage solutions with integrated design services to cater for the customized needs of industrial OEM customers. Products are used in a variety of applications including automation and manufacturing, environmental control, military and aerospace, network and communications, automotive and transportation, medical and healthcare, gaming, retail, and more. At present, MEMXPRO's main product lines focus on DRAM and flash memory storage devices through PCIe, SATA, and USB high-speed storage interfaces, and support various capacities in different form factors. MEMXPRO strives to deliver high-quality products and unsurpassed service, becoming one of the leading brands for industrial memory solutions around the world. For more information, please visit www.memxpro.com or email us at info@memxpro.com
###

All product and company names herein may be trademarks of their respective owners.