MexmPro's Latest Industrial SSD Total Solution and Industry First SMARTPro Device Monitoring Software for Android
---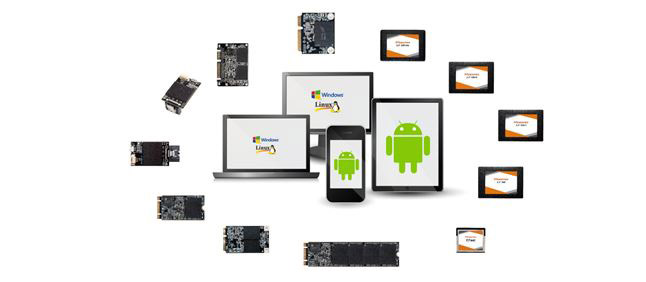 MEMXPRO is the industry's first storage device company with SMARTPro device monitoring sofeware for Android.
May 26, 2016 – MEMXPRO will be exhibiting a series of industrial SATA 3 SSDs and flash modules for industrial, military and aerospace, in-vehicle and transportation, and enterprise applications at Computex Taipei 2016 under the theme of Industrial SSD Total Solutions. Two exhibition highlights are SWAT Extreme Applications and Miniaturized, High-speed Mobile Applications.
SWAT Extreme Applications emphasize S.W.A.T., the four initial words relating to our particular technology requirements for SSDs and flash modules. "S" represents SLC and StrongMLC solutions with super longer Program/Erase cycles and excellent performance; "W" indicates Wide Temperature Solution available for all product series; "A" stands for Advanced Security and means various military grade data protection technologies including encryption and data self-destruction; and "T" is for Tough Design, showing MEMXPRO's products are designed for use in harsh environments and are compliant to the MIL-STD-810G military standard with truly rugged features.
Miniaturized, High-speed Mobile Applications will highlight two major developments: a new high-speed miniaturized SATA Module M3C and G3D series, and SMARTPro-the industry's first storage device monitoring software supporting Android-based mobile devices. With easy plug & play installation for fast access and small footprint, both series are capable of being vertically or horizontally installed in space-limited small-sized devices and mobile platforms. During Computex Taipei 2016, MEMXPRO will be showcasing a conformal coated SATA Module capable of being entirely protected against dust and continuous immersion in water to achieve an IP68 rating. We will also display the on-site test results to demonstrate the SATA Module's performance under dusty and wet conditions.
MEMXPRO will also be demonstrating SMARTPro, the industry's first device monitoring software supporting the Android system. In the age of big data, many companies will save their collected data to the cloud and analyze users' behaviors. However due to limited bandwidth, data needs to be temporarily stored in remote devices and SSDs are ideal for this expanded data capacity. MexmPro is the first company that supports the Android system on its SMARTPro software. The device monitoring software is easy to use and customers can detect and monitor their SSDs and storage modules via SMARTPro on their smart portable devices. In addition, MEMXPRO also provides customization services for various OS platforms to meet customers' specific requirements.
At Computex, we will be giving a live demo of all our major technology features as well as static product demos. We welcome you to visit our booth (Stand: K1312) at the 1st Floor of Taipei Nangang Exhibition Center.
About MEMXPRO
MEMXPRO provides reliable industrial memory and flash storage solutions with integrated design services to cater for the customized needs of industrial OEM customers. Products are used in a variety of applications including automation and manufacturing, environmental control, military and aerospace, network and communications, automotive and transportation, medical and healthcare, gaming, retail, and more. At present, MEMXPRO's main product lines focus on DRAM and flash memory storage devices through PCIe, SATA, and USB high-speed storage interfaces, and support various capacities in different form factors. MEMXPRO strives to deliver high-quality products and unsurpassed service, becoming one of the leading brands for industrial memory solutions around the world. For more information, please visit www.memxpro.com or email us at info@memxpro.com
###

All product and company names herein may be trademarks of their respective owners.