MEMXPRO Showcases SSD Total Solution for Military, Industrial and In-vehicle Applications at Computex Taipei 2016
---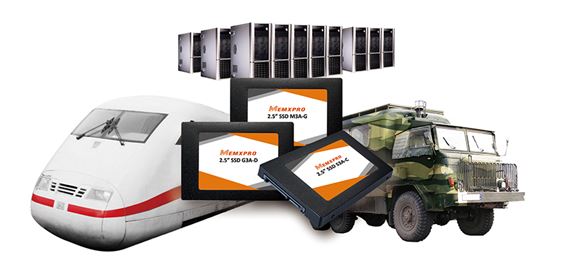 MEMXPRO promotes encrypted and self-destructible SSDs with data security features and robust design
May 30, 2016 – MEMXPRO will be exhibiting a series of industrial SATA 3 SSDs and flash modules for industrial and embedded, military and aerospace, in-vehicle and transportation, and enterprise applications at Computex Taipei 2016. MEMXPRO provides a set of application choices integrating hardware, software and firmware technologies, differentiating technical features for rugged storage products and optimizing SSD endurance and performance. MEMXPRO's booth number is K1312 at 1F of the Taipei Nangang Exhibition Center, Hall 1.
MEMXPRO 2.5" SSD series with robust aluminum pressure die casting enclosure passes military grade MIL-STD-801G standard for rigorous shock, vibration and drop tests. All products can also have conformal coatings applied to protect against moisture, dust, and chemical contaminants. This prevents short circuits and corrosion to achieve an IP65/68 rating; the highest dustproof and waterproof level. The whole product series have wide operating temperature ranges of -40 °C to +85 °C. MEMXPRO SSD series products are designed to tolerate such wide temperature fluctuations and ensure sensitive data safety in the lowest to highest ranges.
The 2.5" SSD-H series is also equipped with multiple data security features and anti-hacking mechanisms. Based on military standards, they all use AES 256-bit encrypted SSD so non-authorized personnel cannot decode data if encrypted keys are activated. Along with MEMXPRO's firmware technologies, Write Protect can be set up for read-only permission to avoid overwriting data or erasure. Furthermore Secure Erase, a data sanitization mechanism can be triggered so even if the device is powered off after a secure erase command has been issued, the process will continue after power has been restored. For emergency events on certain highly sensitive data, the 2.5" SSD-H series is capable of activating an ultimate data protection procedure. Through a preset software command or hardware button, the product physically destroys the SSD itself, making data permanently inaccessible and unrecoverable.
The product series targets military, defense, police, government intelligence institutes, industrial research and information collection units, IT departments, and related system integrators of enterprises who manage corporate data security. Also, some leasing companies who need to eliminate data and records, and who emphasize privacy policies and sign confidentiality agreements with their customers, will find these products invaluable.
The 2.5" SSD-H product series consist of SATA III 6Gb/s MLC or SLC SSDs with 8GB to 1TB capacities and sequential read/write speeds of up to 510/430 MB/sec. The 2.5" SSD-H series is able to also add a Power Plus feature to create power backups for extra data integrity during unexpected power failures. In addition to the 2.5" SSD-H series, we have also released other related products: 2.5" SSD-C AES 256-bit encrypted SSDs, 2.5" SSD-F data self-destructible SSDs, and 2.5" SSD-P Power Plus SSDs.
About MEMXPRO
MEMXPRO provides reliable industrial memory and flash storage solutions with integrated design services to cater for the customized needs of industrial OEM customers. Products are used in a variety of applications including automation and manufacturing, environmental control, military and aerospace, network and communications, automotive and transportation, medical and healthcare, gaming, retail, and more. At present, MEMXPRO's main product lines focus on DRAM and flash memory storage devices through PCIe, SATA, and USB high-speed storage interfaces, and support various capacities in different form factors. MEMXPRO strives to deliver high-quality products and unsurpassed service, becoming one of the leading brands for industrial memory solutions around the world. For more information, please visit www.memxpro.com or email us at info@memxpro.com
###

All product and company names herein may be trademarks of their respective owners.