SMARTPro enhances disk activity monitoring and back-end server management
MEMXPRO Launches SMARTPro 2.0 Storage Device Monitoring Tool Supporting Big Data Analysis for Industry 4.0
---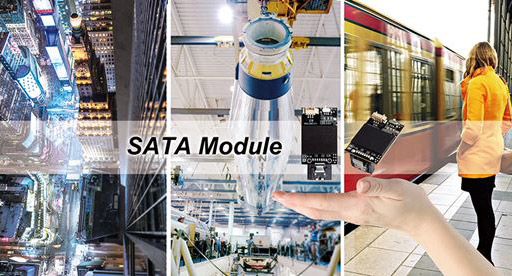 MEMXPRO's SMARTPro 2.0 version with SMARTPro server supports Digital Industry 4.0.
June 2, 2016 – MEMXPRO, the industrial SSD total solution provider, announces a new miniaturized SATA Module - the M3Cand G3Dseries.With easy plug & play installation for fast access, and small footprint, both series are capable of being vertically or horizontally installed in: mobile platforms, in-vehicle and transportation equipment, industrial computers, embedded systems or servers. They are thebest-in-class storage device of choice for space-limited small-sized systems and control units.
Rick Chu, Chief of MEMXPRO Global Sales and Channel Business stated, "There's no doubt that miniaturization is a universal trend and we are manufacturing ever smaller mechanical and electronic products and devices. The booming of the Internet of Things, smart cities, portable devices, and the collection and analysis of big data signifies the high demand for miniaturized, fast, accessible, and reliable storage devices for data transmission between clients and servers in this age of omnipresent intelligence."
MEMXPRO' SATA Module M3C and G3D 7-pin miniaturized series is a simplified BGA chip package design. Combining controller, flash, and DRAM in a single BGA chip package, the design boasts best-in-class transmission quality with better than ever speed and reliability. With advanced firmware technology, the SATA Module family features SATA 6Gb/s transfer rates with embedded DRAM and high random read/write operations of up to 75,000 Input/Output Operations Per Second (IOPS).
The SATA Module product family leverages industrial-leading technologies in a small form-factor and low-cost storage module. The M3C series supports MLC flash type with capacities ranging from 16GB to 128GB. The G3D series is a StrongMLC solution that enables high-quality MLC flash to perform in SLC mode for over 6 x longer lifespan over basic MLC flash but better performance closer to SLC, with capacities ranging from 8GB to 64GB. Both M3C and G3D products provides 90-degree vertical and 180-degree horizontal installation choices. Easy to plug & play, both product series are flexible to embed into any system.
In addition, MEMXPRO is the first storage module company to develop SMARTPro self-monitoring software for the Android system. Our SATA Module series with SMARTPro can provide product and S.M.A.R.T. information for MEMXPRO flash modules. You can remotely monitor the health status, temperature and lifespan of each installed disk in the system anytime, anywhere. MEMXPRO's SoftWare service supports solutions for OS to applications, including pre-installed OS, SSD related SDK, SMARTPro and SaveOS system recovery, simplifying your own software solution development.
About MEMXPRO
MEMXPRO provides reliable industrial memory and flash storage solutions with integrated design services to cater for the customized needs of industrial OEM customers. Products are used in a variety of applications including automation and manufacturing, environmental control, military and aerospace, network and communications, automotive and transportation, medical and healthcare, gaming, retail, and more. At present, MEMXPRO's main product lines focus on DRAM and flash memory storage devices through PCIe, SATA, and USB high-speed storage interfaces, and support various capacities in different form factors. MEMXPRO strives to deliver high-quality products and unsurpassed service, becoming one of the leading brands for industrial memory solutions around the world. For more information, please visit www.memxpro.com or email us at info@memxpro.com
###

All product and company names herein may be trademarks of their respective owners.