High Capacity Storage SSDs with MLC Original Extended Temperature Flash Arrays
MEMXPRO Launches New Industrial SSD Series for Demanding Applications
---
January 17, 2018, Taipei – MEMXPRO, a leading DRAM module and SSD solution provider for defense, industrial, in-vehicle, and enterprise markets, announces the launch of its new high capacity SATA III MLC SSD M3M series. The storage capacity of its 2.5" SSD series is up to 5TB and its mSATA and Half Slim is up to 1TB. This product family complies with JEDEC standards, combining eMMC flash arrays with proven quality and stability, 3,000 P/E cycles of MLC, original extended temperature (-25oC~+85oC) ICs and supports industrial wide temperature (-40oC~+85oC). The product series becomes the optimal storage solution option for operating in harsh environment and required high storage capacity product design for industrial and transportation markets.
eMMC (Embedded Multi Media Card) is a standard of embedded storage. Small in size, eMMC highly integrates MLC NAND Flash memory and an intelligent eMMC controller inside one JEDEC standard package. An eMMC IC with host can handle flash management including flash read/write, dual channel data transmission, ECC (error correction coding), wear leveling, and bad block management. It's easy to upgrade and eMMC has better sequential write speed than NAND flash for write-heavy applications, such as retail POS and video surveillance.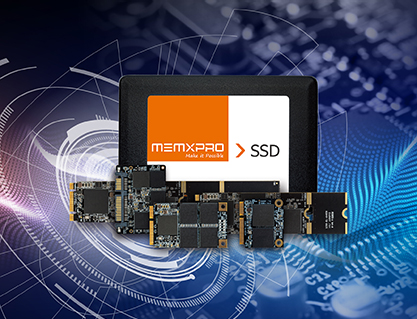 MEMXPRO provides optimal SSD solutions for industrial storage applications.
An SSD (Solid State Disk) is composed of two main components: a controller and flash memory. Transition from planar 2D to 3D NAND is harder and more time-consuming than expected. 2D NAND flash will soon enter the last stage of its product life cycle, while 3D NAND products are developed for consumer markets with a relatively higher data error tolerance. Therefore, 3D NAND still have a higher failure rate. In addition to introduce NVMe SSD with 3D MLC pairing with advanced PCIe controller, MEMXPRO focuses on industrial market with the principle of using original branded flash ICs for quality, reliability, and product longevity required by customers. MEMXPRO is leading to provide more SSD choices for industrial customers with M3M series. The form factors includes 2.5-inch solid state drives, mSATA, Mini mSATA, Half Slim, M.2 SATA 2242, 2260, 2280 and 22110.
2.5" SSD GT M3M series features SATA III MLC SSD up to 5TB in storage capacity. The products have been shipped to Europe, North East Asia, and China. Compared with other stackable PCB designs over 2 TB, 2.5" SSD GT is a ten- or eight-channel single board slim design for better transmission and signal stability. The products are targeted at server and transportation market applications. 5TB SSD is slated for production in February 2018.
To satisfy the need for employing monitoring tools on various computing devices, even portable devices, MEMXPRO's SMARTPro supports Windows, Linux and Android platforms. After checking the serial number of MEMXPRO's storage products, users quickly receive SSD information, including health status, device temperatures, and estimated P/E cycles. At the same time, all S.M.A.R.T log information is visualized in a clear graphical format. This makes it easier for users to read their information, and helps save on development time and cost.
About MEMXPRO
MEMXPRO provides reliable industrial memory and flash storage solutions with integrated design services to cater for the customized needs of industrial OEM customers. Products are used in a variety of applications including automation and manufacturing, environmental control, military and aerospace, network and communications, automotive and transportation, medical and healthcare, gaming, retail, and more. At present, MEMXPRO's main product lines focus on DRAM and flash memory storage devices through PCIe, SATA, and USB high-speed storage interfaces, and support various capacities in different form factors. MEMXPRO strives to deliver high-quality products and unsurpassed service, becoming one of the leading brands for industrial memory solutions around the world. For more information, please visit www.memxpro.com or email us at info@memxpro.com
###

All product and company names herein may be trademarks of their respective owners.